This article is inspired by unused content in one of the canonical games. To learn more about its origins, see here.

| | |
| --- | --- |
| Blue Bulborb | |

Scientific name
Unknown
Family
Grub-dog
The Blue Bulborb is a grub-dog that, considering the existence of the Dwarf Blue Bulborb, appeared in Pikmin 2 during its development. It would have strongly resembled the Red Bulborb, although with a blue backside. The exact behaviors of the Blue Bulborb are unknown but presumably would have been identical to those of the Orange Bulborb, which it later became.
In fanon games
This is where users type their version of the Blue Bulborb.
In Pikmin 3: The Dweevil's Revenge
| | |
| --- | --- |
| Blue Bulborb | |

Scientific name
Unknown
Family
Grub-dog
Areas
Wettest Woods
Attacks
Eats Pikmin
In Pikmin 3: The Dweevil's Revenge, Blue Bulborbs have slightly more health, bite less often, and shake Pikmin off more. They have a blue backside with green spots and have what seems to be gills not unlike the ones Blue Pikmin have. Attack them as if they were any other bulborb. Because they have more health, however, Purple Pikmin should be used.
In Pikmin Eco
The Blue Bulborb is a subspecies of grub-dog found in Pikmin Eco as a close relative to the Red Bulborb. It looks very similar to the Red Bulborb, except that it is blue in color instead of red, and always spawns in submerged areas. While having slightly more health, it's also slower than the Red Bulborb.
Notes
In-game entry

"

This subspecies of grub-dog has developed a semi-aquatic lifestyle due to its habitat so close to the sea. Although it has the same physical anatomy as similar bulborb species, the blue bulborb has evolved a set of primitive gills located just inside the throat, which allows it to breathe both in the air and in the water. There's been some debate whether it is a bulborb that has evolved to suit an aquatic lifestyle, or if the species is a missing link between terrestrial bulborbs, and aquatic water dumples. Further research is being conducted on the matter.

"



In Pikmin TCG
Pikmin TCG
This article contains information that relates to the non-canon game Pikmin TCG, which was originated by Yoshord, a user on this Wiki.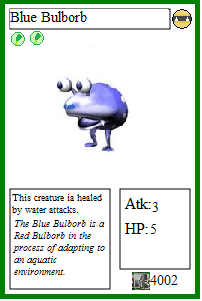 The Blue Bulborb is a Red Bulborb in the process of adapting to an aquatic environment. In the first Pikmin: Redemption card set of Pikmin TCG, this card is healed when hit by water attacks or damage.
In Pikmin: Distant Planet
Distant Planet


This article or section contains information pertinent to Pikmin: Distant Planet, made up by the users of this wiki.
| | |
| --- | --- |
| Blue Bulborb | |

Scientific name
Oculus kageyamii puteulanus
Family
Grub-dog
Carry weight
10
Max. carriers
20
Seed worth
10
Poko value
 × 8
Attacks
Eats Pikmin
The Blue Bulborb is a close relative of the Red Bulborb and Yellow Bulborb, but are usually aquatic. It looks similar to its relatives but has a blue back with white spots and has blue eyes. The Blue Bulborb is another supposed color of bulborb, and this creature is said to be blue depending on its native region while it may appear red or yellow in others. As with Red Bulborbs and Yellow Bulborbs, Blue Bulborbs also have a dwarf counterpart.
In Pikmin: Final Destiny
| | |
| --- | --- |
| Blue Bulborb | |

Scientific name
Unknown
Family
Grub-dog
Attacks
Eats Pikmin
Blue Bulborbs in Pikmin: Final Destiny are blue with white spots, and are larger than Red Bulborbs.
In Pikmin: Redemption
| | |
| --- | --- |
| Blue Bulborb | |

Scientific name
Oculus kageyamii puteulanus
Family
Grub-dog
Areas
Dawn Lake
Attacks
Eats Pikmin
The Blue Bulborb is a relative of the Red Bulborb that resides in water. It has blue skin, white spots, webbed feet, and gills.
Notes
Olimar's notes

"

The blue bulborb appears to be a cousin of the red bulborb that is beginning to adapt to underwater regions. The feet have become webbed with a thin membrane and gills have started to grow over the nasal cavity. The dwarf blue bulborb is becoming extinct because of its inability to adapt to these aquatic environments. Little else is known about this creature.

"



Louie's notes

"

Although the taste of the meat is not the greatest in the world, you can stuff the webbed feet in any dish. Instant guest pleasers! Warning: everyone will be asking what your secret is. Don't tell them.

"



In Pikmin: Wide World
The Blue Bulborb appears in Pikmin: Wide World as a semiaquatic grub-dog found exclusively in Balmy Highlands, as well as its caves, because of the area's clear, clean water. Its dwarf counterpart, the Dwarf Blue Bulborb, is frequently found somewhere close by. Blue Bulborbs can be host to parasitic Pikmin, causing the existence of Blue Bulbmin. Blue Bulborbs prefer to sleep in water that completely submerges their legs while they are standing, and may be found sleeping in a variety of positions. Their dwarf counterpart, however, prefers to hunt in more shallow water. A Blue Bulborb will awaken if it is touched, injured, or hears a sound loud enough to rouse it from its sleep. While it is awake, a Blue Bulborb will pursue any Pikmin and leaders in its sight, even traveling into deeper water to catch them, until they leave its territory. This will prompt the creature to find a spot to rest near the center of its territory and return to its slumber. The Green Bulbot is similar to the Blue Bulborb, but is mechanical and resides within acid instead.
Blue Bulborbs are the same size and shape as most other bulborbs but have a distinct appearance. They have tan skin, a blue backside with white spots, light green eyes with white sclerae, a pair of gills on either of their cheeks, and webbed feet. In its reddish mouth is a pink tongue.
Defeating a Blue Bulborb can be tricky, as they are always found sleeping in a body of water. Although they can be attacked most easily using Blue Pikmin, by charging them at the creatures' backside, swarming a sleeping Blue Bulborb with Winged Pikmin is also a viable strategy as they can fly over bodies of water. Caution must be exercised, however, to not allow Winged Pikmin to be thrown into the water after the creature shakes them off. A Blue Bulborb can also be led out of the water so that it may be attacked by land-faring Pikmin, although this can be dangerous because the creature will be ready to eat its prey. As with many grub-dogs, throwing Pikmin onto the creature's eyes will cause it to flinch, buying precious time to defeat it with little to no casualties, as well as inflicting damage and making it release any Pikmin currently in its mouth. Any leaders that end up in the creature's mouth will be chewed up, and then spat out alongside any Pikmin in its mouth at the time. Upon defeat, a Blue Bulborb will fall to the ground and yield

 × 5. On the surface, its body can be carried to either the Master Onion for ten Pikmin seeds or the Dolphin Lander for

 × 6. Underground, a Blue Bulborb's remains can be carried to the Lander Pod to either immediately gain

 × 6 or be saved for later to gain ten Pikmin seeds of any chosen discovered color from the Master Onion, but only if the cave is exited using an escape geyser.
Notes
Olimar's notes

"

This species of grub-dog seems to have evolved to suit a semiaquatic lifestyle that allows it to live on land and in water. The blue bulborb prefers to inhabit bodies of water that cover its gills while it lays down to sleep. Although its feet are webbed, it still cannot properly swim, and so much trudge in the water in which it lives.

"



Shacho's notes

"

Their vibrant, blue, polka-dotted hides would go for a nice price! I'm sure there are plenty of buyers on Hocotate that are willing to purchase grub-dog rugs for their homes!

"



Marie's notes

"

Blue bulborbs become quite irritable if they don't have a body of water to wade around in. I recommended that their owners purchase a pool if they don't already have one, or live by a water body of some sort. Blue bulborbs love to splash those they love!

"



Louie's notes

"

This beast's meat is as fishy as its aquatic relatives', meaning it can be used as a suitable substitute in dishes requiring it. It's just fine on its own, however!

"



Dolphin Lander's notes

"

Blue bulborbs prefer to sleep with their eyes above the water's surface. This is so they can peak at potential prey strolling along the shoreline, which is a pretty sneaky tactic! Unfortunately, they tend to sleep more than they watch...

"



In Pikmin: The Winds of Light
In Pikmin: The Winds of Light, Blue Bulborbs can turn themselves into a puddle to disguise themselves and they like to swim in water. One is near the landing site at the Spring of Serenity, and one is on sublevel two of Comrade's Cavern.
Notes
Olimar's notes

"

This particular grub-dog has probably somehow been mutated. As it walks, it creates a trail of water, and it sleeps in a puddle. The puddle is created as a disguise for the blue bulborb and is effective in water, but on land its location is obvious.

"



In Pikspore
Pikspore


This article or section contains information pertinent to

Pikspore

, created by

Neini

.
| | |
| --- | --- |
| Blue Bulborb | |

Scientific name
Unknown
Family
Grub-dog
Attacks
Eats Pikmin
In Pikspore, Blue Bulborbs resemble Red Bulborbs with blue backs and have slightly more health. They appear in colder regions.
Notes
Olimar's notes

"

Yet another grub-dog subspecies, the blue bulborb has a slightly thicker skin, preventing major damage from smaller creatures. Unlike the hairy bulborb, which gets its warmth from the thick fur that covers its back, the blue bulborb uses a retractable sail like an air conditioner, warming its body when it is cold, and vice versa. Studies indicate it is one of the oldest bulborb species, dating back to prehistoric times.

"



Pikmin: Wide World
Characters
Main (Captain Olimar, Shacho, Marie, Louie, Dolphin Lander) •
Side (Alph, Brittany, Captain Charlie, Dorris, Granny Marma, Libra, Margot, Sagittarius, S.S. Drake, S.S. Dreamstride) •
Mentioned (Freight Voyager, SPERO, Bulbie)
Pikmin
Onion • Pellet • Yellow Pikmin • Blue Pikmin • Red Pikmin • Purple Pikmin • Green Pikmin • Rock Pikmin • White Pikmin • Winged Pikmin • Captmin (Captain Hunnigan) • Alien Pikmin • Mushroom Pikmin • Wild Pikmin
Parasitic Pikmin (variants: Blue Bulbmin, Breadmin, Burrowing Snagmin, Cannon Beetlemin, Dweevilmin, Groinkmin, Hairy Bulbmin, Orange Bulbmin, Red Bulbmin, Spinermin, Spotty Bulbearmin, Wollymin)
Collectibles
Data file (Pikminology, Wildlife Survival, Explorers' Tales) •
Fruit (list) •
Nugget •
Sparklium (seed, stone) •
Treasure •
Upgrade (unlocks, Exploration Kit, ship part)
Black nectar •
Nectar •
Ultra-bitter spray •
Ultra-hot spray •
Ultra-minty spray •
Ultra-spicy spray •
Ultra-sweet spray •
Ultra-toxic spray
Hazards
Acid •
Adhesive •
Blunt force •
Bubble •
Electricity •
Fire •
Ice •
Lubricant •
Mud •
Panic •
Pit •
Poison •
Spore •
Sunset •
Water
Gameplay
Achievements •
Caravan •
HocoPad •
Options •
Pikpik carrot •
Soul •
Squad desertion •
Temperature •
Weather •
Game modes (Story Mode, Battle Mode, Challenge Mode, Bottomless Abyss)
Other
Changes during development •
Gallery •
Cave units