This article relates to the canonical games. See Pikipedia's "Shearwig" article for more canonical information.

| | |
| --- | --- |
| Shearwig | |

Scientific name
Himeagea volaris
Family
Mandiblard
Carry weight
1
Max. carriers
1
Seed worth
4
Attacks
Eats Pikmin
Shearwigs are winged mandiblards and the males of their species. The wingless females of this species are never seen, as they spend nearly their entire life underground. The males have a dark green shell, sporting simple wings and large, sickle-shaped mandibles. They are slightly more aggressive than Male Sheargrubs and take leave off the ground to hover up high after having lost at least half of their health to allow it to steadily return. While up in the air, these creatures are still within the reach of a Pikmin throw, just one of which being enough to kill one.
Like other mandiblards, Shearwigs have an affinity for chewing apart stick bridges, and lose health while in water. Because when they are being attacked they fly up, they will stop losing health as soon as they stop being submerged. On the ground, if they are hit in the back, they will die instantly, just like a dwarf bulborb.
In Pikmin 3, Shearwigs fly almost all the time while fighting and swoop down to grab Pikmin and eat them. Instead of healing while in flight, they roost and go underground, and can fully heal in thirty seconds. They will go underground to heal when their health reaches twenty percent or lower and will emerge after it reaches fifty percent and prey are nearby. This makes them easy to strike down and deal good damage to, and makes them easy targets for Winged Pikmin.
Shearwigs also appear in Hey! Pikmin, exclusively as part of the boss fight against the Queen Shearwig. In this game, they only fly around to serve as a line of defense, move towards a target while spinning, chomp on Pikmin, and eat them, all as commanded by the queen.
Notes
Olimar's notes
"Unusual for their genus, flying mandiblards have retained their wings. However, only the adult males of this species can fly. Females of this species spend most of their life span underground. They do emerge for a period after maturation to spawn, but never metamorphose."
Louie's notes
"Grate this beast into a zest and whisk with sugar, cream, and chopped dark chocolate for a lusciously indulgent mousse that's a true culinary coup de grace!"
Alph's comments
"Structural flaw: soft hide. It seems odd for a flying creature to make its home underground, but that's what these insects do. When they sense motion, they surface and take to the air immediately, then attack from above."
Brittany's comments
"It doesn't look like it can fly, possibly because it spends all its time under the earth. Maybe all it needs is to cut back on its diet and exercise more. Wait, what am I saying? I can't ask it to do something I wouldn't."
Charlie's comments
"Oh, a flying bug! I'll send some flying Pikmin after it!" Rookie mistake! I can see why you'd think that, but the best Pikmin for the job is a Rock Pikmin. These bugs are so lightly armored that one hit can take them out. I could even use my steely fists, but that would just be overkill."
In fanon games
This is where users type their version of the Shearwig.
In Pikmin 2: New Year
| | |
| --- | --- |
| Shearwig | |

Scientific name
Unknown
Family
Mandiblard
Poko value
 × 2
Attacks
Eats Pikmin
The Shearwig returns in Pikmin 2: New Year. Although it exhibits the same behaviors as in Pikmin 2, its coloring is drabber.
In Pikmin 4: The World to Free
Shearwigs appear in Pikmin 4: The World to Free.
Notes
Tike's notes
"I question how these creatures manage to hold themselves afloat when they fly. Oddly enough, it has to do with their stomachs. When it flies, it lowers its body fat. It turns that fat into energy, which helps it fly faster and it loses about a third of its weight. That's why when they fly, they are a lot more hungry. They make sure to feed after their flight, or else, it can become dangerous."
Alice's notes
"They are bold. They are also quite loyal. When we meet their queen, they did everything to protect her. They remind me a lot of the Pikmin. They are also less aggressive than jackwigs. You know what, I like them. If only they didn't eat our loyal companions..."
Captain Pikmin's notes
"Flying is what they do best, and to stop that best, you must bring them down to the ground. To do that, a strong shot at the body should do the trick."
In Pikmin Eco
The Shearwig appears in Pikmin Eco. It is an insect-like variant of the sheargrub species that developed wings to fly.
In Pikmin Forever
| | |
| --- | --- |
| Shearwig | |

Scientific name
Unknown
Family
Mandiblard
Attacks
Eats Pikmin
In Pikmin Forever, Shearwigs are more graphically and behaviorally updated, being able to react to the environment. It will give off a dim greenish glow in dark areas. If it can be struck out of the air, the Pikmin will hold on to the Shearwig until it lands, and they do not drop pellets. If it is attacked on the ground, it can either burrow and be forced out by a Purple Pikmin's impact, or it can fly into the air and be hit by a Pikmin. Winged Pikmin will automatically attack this beast if it is in the air and the winged Pikmin collides with the Shearwig. This enemy will choose to periodically migrate to different places on the map via flying, covering large distances. They can migrate to a total of five places on any given map, besides small challenge mode levels, and each time it is chosen randomly. Shearwigs cannot burrow on hard materials, seeking out softer ones like sand to burrow in.
In Pikmin TCG
Pikmin TCG
This article contains information that relates to the non-canon game Pikmin TCG, which was originated by Yoshord, a user on this Wiki.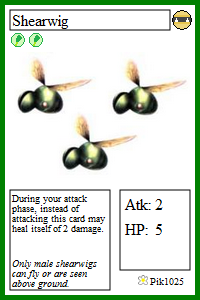 Shearwigs appear in the Pikmin 1 card set of Pikmin TCG. Their ability is to heal rather than attack during a turn.
Pikspore
Pikspore


This article contains information that relates to the non-canon game Pikspore, which was created by Neini.
In Pikspore, Shearwigs are fairly common enemies. The darkfreeze variant is the Darkfreeze Shearwig.
Pikmin: Wide World
Locations
Planets
Hocotate •
PNF-404 •
Mentioned (Koppai)
Areas
Balmy Highlands •
Arid Oasis •
Frigid Tundra •
Ancient Metalworks •
Mycelial Sepulcher •
Endless Sea
Dens
Balmy Highlands (Temperate Den, Desolate Dugout, Scornet Hive) •
Arid Oasis (Dune Den, Castaway Cove, Sunbaked Sauna) •
Frigid Tundra (Snowy Cove, Hot Hole, Stone Dugout) •
Ancient Metalworks (Hidden Scrapyard, Polluted Pond, Wasted Waterworks) •
Mycelial Sepulcher (Subterranean Spring, Gray Court, Phosbat Hideout) •
Endless Sea (Dark Den, Watery Grave, Scarpanid Nest)
Caves
Balmy Highlands (Grassy Grotto, Humid Hole, Watering Hole, Wayward Citadel, Forgotten Mine) •
Arid Oasis (Subterranean Sands, Gritty Getaway, Lost Kingdom, Concrete Complex, Wooden Fortress) •
Frigid Tundra (Lonely Quarry, Flaming Trench, Icy Crevasse, Frozen Fortress, Wracknid Nest) •
Ancient Metalworks (Chemical Reservoir, Corroded Complex, Clogged Pipeline, Robot Workshop, Dim Greenhouse) •
Mycelial Sepulcher (Dank Depths, Fungus Forest, Sunlit Pit, Divers' Delight, Black Abyss) •
Endless Sea (Muddy Murk, Overgrown Garden, Neglected Aqueduct, Cursed Chasm, Chance Pit)
Battle Mode
Close Quarters •
Forest Frenzy •
Tan Battleground •
Cold War •
Planked Peril •
Hard Fought •
Reinforced Fortress •
Frantic Factory •
Tiled Tossup
Challenge Mode
Pretty Prairie •
Forgotten Garden •
Serene Shore •
Frozen Fields •
Timber Maze •
Rocky Road •
Rebar Labyrinth •
Steel Stronghold •
Perplexing Paradise •
Dingy Dugout •
Foreboding Forest •
Sandstone Citadel •
Preserved Pit •
Wooded Expanse •
Impenetrable Prison •
Weathered Field •
Corroded Catwalk •
Mosaic Maze •
Breadbug Den •
Jellyfloat Pool •
Mandiblard Nest •
Cement City •
Arctic Abode •
Study Floor •
Balmy Highlands Trial •
Arid Oasis Trial •
Frigid Tundra Trial •
Ancient Metalworks Trial •
Mycelial Sepulcher Trial •
Endless Sea Trial •
Battle Bosses (The Titan Cottonade, The Frosted Arcticlops, The Plasm Wraith, The Titan Webber Dweevil, The Winged Snagret, The Grimacing Cremblub)
Characters
Main (Captain Olimar, Shacho, Marie, Louie, Dolphin Lander) •
Side (Alph, Brittany, Captain Charlie, Dorris, Granny Marma, Libra, Margot, Sagittarius, S.S. Drake, S.S. Dreamstride) •
Mentioned (Freight Voyager, SPERO, Bulbie)
Pikmin
Onion •
Pellet •
Yellow Pikmin •
Blue Pikmin •
Red Pikmin •
Purple Pikmin •
Green Pikmin •
Rock Pikmin •
White Pikmin •
Winged Pikmin •
Captmin (Captain Hunnigan) •
Alien Pikmin •
Mushroom Pikmin •
Wild Pikmin •
Parasitic Pikmin (Blue Bulbmin, Breadmin, Burrowing Snagmin, Cannon Beetlemin, Dweevilmin, Groinkmin, Hairy Bulbmin, Orange Bulbmin, Red Bulbmin, Spinermin, Spotty Bulbearmin, Wollymin)
Vegetation
(

list

)
Asphyxiating Moldclump •
Bloominous Stemple •
Bouncy Mushroom •
Bramble •
Browncap •
Burgeoning Spiderwort •
Capstalk •
Carnation Candypop •
Colossal Glowcap •
Common Glowcap •
Crimson Candypop •
Demantoid Candypop •
Flukeweed •
Golden Candypop •
Hydroe Bramble •
Ivory Candypop •
Kingcap •
Lapis Lazuli Candypop •
Lily pad •
Monarch Candypop •
Mouthy Shootplant •
Nectar Grass •
Orbular Pollenspout •
Pellet Posy •
Pellet Vine •
Shockcap •
Slate Candypop •
Sparklium Candypop •
Spiny Spiderwort •
Spotcap •
Springpetal •
Sunset Spiderwort •
Thorned Posy •
Vine •
Violet Candypop •
Weeping Posy •
Wickweed
Collectibles
Data file (Pikminology, Wildlife Survival, Explorers' Tales) •
Fruit (list) •
Nugget •
Sparklium (seed, stone) •
Treasure •
Upgrade (unlocks, Exploration Kit, ship part)
Nectars and sprays
Black nectar •
Nectar (Capstalk, egg, Nectar Grass, rubble) •
Burgeoning Spiderwort (ultra-bitter spray, ultra-spicy spray) •
Spiny Spiderwort (ultra-toxic spray) •
Sunset Spiderwort (ultra-hot spray, ultra-minty spray, ultra-sweet spray)
Hazards
Acid •
Adhesive •
Blunt force •
Bubble •
Electricity •
Fire •
Ice •
Lubricant •
Mud •
Panic •
Pit •
Poison •
Spore •
Sunset •
Water
Obstacles
Acid pool •
Bamboo gate •
Bomb rock (cryogenic bomb rock, dazzling bomb rock, incendiary bomb rock, mine, mine rock, smoke bomb rock) •
Boulder •
Bramble gate •
Brick gate •
Burrow-nit nest •
Cardboard box •
Climbing stick •
Clipboard •
Clog •
Cobblestone block •
Conveyor belt •
Conveyor switch •
Crystal •
Crystal gate •
Crystal nodule •
Crystal stalactite •
Electric bulb gate •
Electric wire gate •
Electrical wire •
Electrode •
Elevator block •
Elevator platform •
Escape geyser •
Fire bramble gate •
Fire geyser •
Flame •
Flukeweed dam •
Fragment bridge (bridge fragment) •
Frozen surface •
Gas pipe •
Glowstem •
Hay slope (hay stack) •
Ice chunk •
Iron ball •
Jackwig hive •
Liftable elevator •
Loose soil block •
Metal block •
Metal pipe •
Mitite bomb •
Mud puddle •
Nectar pool •
Oil slick •
Packed soil block •
Phosbat Pod •
Poison bramble gate •
Pully elevator •
Rain droplet •
Rectangular paper bag •
Reinforced gate •
Rock •
Rusted rod •
Sand pit •
Sky Dumple cluster •
Snowball •
Soil gate •
Soil mound •
Stick bridge •
Sweetgum pod •
Tin box •
Triangular paper bag •
Trowel •
Tunnel •
Water pool •
Water geyser •
Web •
Wooden stake
Gameplay
Achievements •
Caravan •
HocoPad •
Options •
Pikpik carrot •
Soul •
Squad desertion •
Temperature •
Weather •
Game modes (Story Mode, Battle Mode, Challenge Mode, Bottomless Abyss)
Other
Changes during development •
Gallery •
Cave units