Hey, Augster999!
Hello, Augster999, and welcome to Pikmin Fanon, the wiki where you can share your ideas about the Pikmin series! There's a lot to do around here, so we hope you'll stay and continue to edit the wiki. Please remember to sign in so you can edit and we can recognize you and your contributions. Before you begin editing, you should read Pikmin Fanon's policies and guidelines, and if you are new to wikis, check out the editing help page. The following links are to help familiarize you with some of the intricacies of our wiki. We hope you have a great time here and stay around for a while!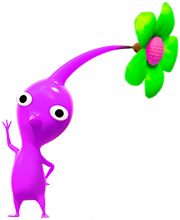 Useful links
Hi there! I've seen your edits, and your game. I know you're a new user, so you might make a few mistakes in spelling and grammar here and there, but please try your best. Since this is a fanon wiki, most users think that it's okay not to use correct spelling/grammar, but in reality, it's just as important as it is on any other wiki. When referring to the Pikmin games, please italicize them, because that's the right way to do it. Thanks, and have a good time editing! ~ I'm Pik

Fan23 and I approve this Bulborb. (Sysop)
Keep up the good work!