Hey, PikPikCarrot!
Hello, PikPikCarrot, and welcome to Pikmin Fanon, the wiki where you can share your ideas about the Pikmin series! There's a lot to do around here, so we hope you'll stay and continue to edit the wiki. Please remember to sign in so you can edit and we can recognize you and your contributions. Before you begin editing, you should read Pikmin Fanon's policies and guidelines, and if you are new to wikis, check out the editing help page. The following links are to help familiarize you with some of the intricacies of our wiki. We hope you have a great time here and stay around for a while!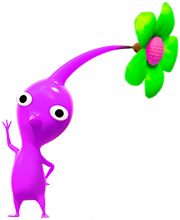 Useful links
Hello, Pik, and welcome to the wiki! I hope that you enjoy your stay, or maybe become a permanent member. If you have any problems, click on the "piklord" in my sig and write your issue down at the bottom of my talk page. Thanks! Oh, and remember to sign your messages. I'm
Cyan piklord 64, and I like the Foundation Dweevil!