Welcome to Neocraftz1553's User Talk Page!
Hey, Neocraftz1553!
Hello, Neocraftz1553, and welcome to Pikmin Fanon, the wiki where you can share your ideas about the Pikmin series! There's a lot to do around here, so we hope you'll stay and continue to edit the wiki. Please remember to sign in so you can edit and we can recognize you and your contributions. Before you begin editing, you should read Pikmin Fanon's policies and guidelines, and if you are new to wikis, check out the editing help page. The following links are to help familiarize you with some of the intricacies of our wiki. We hope you have a great time here and stay around for a while!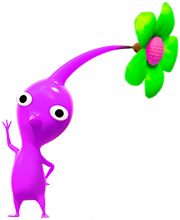 Useful links
~PikFan23 (Admin) 03:06, 23 December 2015 (EST)
Old Stuff
Cool Pikifan4 13:34, 14 January 2016 (EST)
Hey
Hey, Neocraftz. It makes me happy too see that you have great enthusiasm towards Pikmin: Attack of the Breads. However, I have taken a break from that fanon game, and have begun working on Pikmin: Infection in Progress. I will provide further details on the Territories once I begin working on PAOTB sometime in the future. And by the way, begin getting into the habit of using some form of signature at the end of your messages. I have a heck of a time finding and responding to you. Have a great day! ~

Cheepy-Cheepy 
Ok, I will use the signature once I figure out how to do stuff like that, link pages, add pictures and whatnot. I could also help you in PIIP if you want. ~Neo~
You forgot to add [[File:ImpacrSiteRender570.png]] to the Images/Render folder of your's Pikifan4 14:07, 17 January 2016 (EST)
yknow the one with Captain Olimar on your main page Pikifan4 17:32, 18 January 2016 (EST)
Update
The update for the expansion pack brings TONS of new things: Fixed animations for pikmin that attack faster/Slower, New pikmin, and more! Download it here —

This message was approved by Neocraftz1553 14:22, 28 December 2015 (EST)
Test Maps
I have made some test maps for Espyo's Engine. Here they are
Some stuff
Hi Neocraftz1553. I just wanted to let you know I cleaned up some stuff on your game page and on the Acid Dumple page. By the way, I noticed that when you make links, you tend to use the single bracket links. Those are used for external websites. Instead, please use double brackets ( [[ ) when linking to other pages here on the wiki, okay? And finally, I recommend that you move your engine-related stuff to your userpage, as it makes your talk page quite cluttered. Thanks! Anyway, good luck with your game and the engine stuff! If you need any help, you can always ask me. ~PikFan23 (Admin) 21:33, 28 December 2015 (EST)
Pikmin Icons
Hey Neocraftz1553! I've created the icons for the Pikmin types you wanted. Let me know if you'd like any changes! I'd recommend adding links or a category to these files once you have a category for the game these go in. If you need help with that, ask me or anyone else, we're all happy to help!
As far as recording a video of how to make a Pikmin, I first must tell you I didn't create my Pikmin models entirely from scratch. I used a website called The Models Resource, in which people publicly rip models from video games as downloadable files for non-commercial use. I used either the character or trophy Pikmin from Super Smash Bros. Brawl as templates for the Pikmin I've created. I can upload a video, but still just letting you know, that's where I start for Pikmin models. Although, I've just recently created an entirely posable Red Pikmin based off of the Brawl model, and I'm definitely trying to create a video to show its features. Scruffy 08:48, 30 December 2015 (EST)
Ok, thanks for the icons. Also, thanks for the model resources page, it will really help later on. —

This message was approved by Neocraftz1553
Thanks!
Thanks for the improved map of Zen Garden, even if you missed two details... not that they were obvious anyways XD It still looks fantastic! --StarWolf of the Cosmos 19:03, 31 December 2015 (EST)
Okay, that's cool. But where exactly can you go to download the engine? --StarWolf of the Cosmos 19:31, 31 December 2015 (EST)
Well, I'll try to wait until next year XD (jezz that was awful XP) thanks for all the help Neo! ~StarWolf
Renders
Hey Neo! Your renders look fantastic, and I am wondering how you created them. Can you tell me what program you used to make them? Thanks!

~ I'm BallsAngus, and I rule the pikmin planet.
Pikmin Return Idea's
Hey man Pikifan4 14:02, 17 January 2016 (EST) here i saw Pikmin Return and i have an idea. I putting it here since it doesnt have a talk page yet so here. I Like the idea but how would the capture more creature's work? Is there like a feature where Pikmin carry corpses to the ship or is it a net feature where the creature is kept alive then moved to the Ship? Also when does it take place and are you/the player a Hocotation? Make it so the previous 9 types (Red Pikmin, Yellow Pikmin, Blue Pikmin, Purple Pikmin, White Pikmin, Rock Pikmin, Winged Pikmin, Bulbmin, and Mushroom Pikmin) return. Some treasure Idea's are (Insert Time Telling reference here) (A disc for a Pikmin Game), a Petrified Bread Bug (Dwarf Bulborb Kninknak/weird figures made by Agastuma or whatever its called for Pikmin 2), and the Fate of Captain (Olimar Amiibo). Just some thought.
Purple Pikmin
The Purple Pikmin in the Pikmin Community Fangame looks great. Pikifan4 11:45, 21 January 2016 (EST)
Hey There
Hey there neo. How do you think I did on the latest addittion to the community fangame. Let me know as soon as possible. — I am LoganPikmin and meet my friend

Spiky the Spike Pikmin.
Re: Guild of Bulborbs
Hey! Sorry if I took a while to get back to you. You can join the Guild of Bulborbs if you would like too, however, there are far too few members for it to act effectively and it is kinda shelved unless overall wiki activity improves. You can join if you would like, but there will likely be no other active members. As for my hiatus, I am not actively editing the site most of the time, but I try to keep an eye on the wiki and respond to any messages, so I'll still be around if you need help!

Spotty Bulbear Peach Bulborb
Helping With PIP
I've read your message, and I've looked at what you have rendered. And your offer to help me with my game is very tempting. As a matter of fact, I'd like you help help visualize the game a bit. Thank you, and have a good day. ~

Cheepy-Cheepy 
Textures
Wow dude, that looks AMAZING! Sorry I didn't respond, school's been keeping me away from the fanon. And yes, I do have Gmail. It is lwol637@gmail.com, but I don't check it often. Thanks again! ~

Cheepy-Cheepy 
Re: Nice work on the main page!
Hey, thanks! I actually had some time yesterday to update everything and clean the polls. I'm still not done fixing the poll system to match the one at Pikipedia, but it's definitely much better right now. I'm not really working on my fangame at this point, but if you have ideas, I'd love to discuss them on the IRC. And yeah, you can send me the prerenders if you'd like.
Also: when did you ask me to point out mistakes? ~PikFan23 (Admin) 20:24, 2 April 2016 (EDT)
Burgeoning Spiderwort.blend
Here is the link to the Burgeoning Spiderwort model. Hope you enjoy it! Let me know if something doesn't work when you open it. Scruffy 18:01, 4 April 2016 (EDT)
Next Render
Seeing as you're trying to model the Skeletal Wollywog, I suggest doing that next. And I saw your render for the other Sickly Wollywog, and it looks wicked! Nice work. I'll be working on an article or two tonight. ~

Cheepy-Cheepy 
Skeletal Wollywog
You're the guy making the renders, so its up to you, really. So I guess just create your ideas and pick out the one that looks best. And that idea you had about the eyes peering out of the darkness would definitely fit the mood of the Fungal Grotto or Overrun Laboratory being inhabited by the unknown. :) ~

Cheepy-Cheepy 
Sounds good! I most likely will not be on by Saturday, however. ~

Cheepy-Cheepy 
Skeletal Wollywog
Hm... I'd like to voice my opinion, but that thing is like a silhouette on my screen. Brighten that thing up! XD ~

Cheepy-Cheepy 
Sounds good, my guy. I'll be waiting for the bright outcome! ~

Cheepy-Cheepy 
Hm... I'm liking it so far. And keep the dark Skeletal Wollywog, as it is your render. ~

Cheepy-Cheepy 
I like the second render a lot, actually. And the lighter render looks a bit cartoony, but ready to use! Keep up the good work. I'm glad you volunteered to make visuals for PIP. :) ~

Cheepy-Cheepy 
Hey Thanks and question
Hey neo. First off thanks for the help and editing. So do you just want to occasionaly help or could you be a partner with me on Pikmin: Attack of DeathSpike? Let me know as soon as possible. — I am LoganPikmin and meet my friend

Spiky the Spike Pikmin.
---
hey neo can you tell me how to addanimage to an enemy infobox? This Is Spiky`s Owner LoganPikmin 14:54, 22 April 2016 (EDT)
Slow Render Blues
Aw, that's quite a shame, a master of render not being able to perform his magic at maximum efficiency. Render-wise, however, I was thinking of creating a major aspect of PIP: the box art! I don't have anything specific in mind, however. I was thinking maybe something that shows off the intensity, decay, and the courage the President and his Pikmin must show in their endeavor. Perhaps he should be fighting something like the Zombified Bulborbs or whatever they are called, with the Ujadani hidden in the background of purple smog? Hm... ~

Cheepy-Cheepy 
Death Spiked Burrowing Snagret
Hey neo can you create the page Death Spiked Burrowing Snagret for me? Answer as soon as possible. — I am LoganPikmin and meet my friend

Spiky the Spike Pikmin.
Hey can you create the page Death Spiked Withering Blowhog? Thanks and answer as soon as possible. This Is Spiky`s Owner LoganPikmin 11:11, 3 May 2016 (EDT)
New enemy!
There's a new enemy in Armored Mawdad Game, it's a Blue Bulborb!
A Blue Bulborb is a sad Bulborb. Im Princess Peach and I approve this message. 15:44, 30 April 2016 (EDT)
Pikmin 4 Help
Hey Neo! I would appreciate your help! Fangames take soooo much work, even with a couple of extra hands. You would make everything much easier. I even saw the diamond long legs render. It looks amazing! I look forward to seeing more of your contribution!
Another thing! Can you make a render of the illusion wraith? All I can say is make him scary!
Oh. I'm sorry to hear that. Thanks for replying and asking to help me. I hope you can access your computer soon! :)

~ I'm BallsAngus, and I rule the pikmin planet.
You missed it.
Dude while you were gone we hit a new awesome milestone. 3000. I never thought i would be able to say it. Have a awesome day and hope youre on sooooon. — I am LoganPikmin and meet my friend

Spiky the Spike Pikmin.
Re:Hello!
Hi, Neocraftz! My apologies for failing to respond to your message for so long; school has been keeping me very busy. It is my sophomore year, after all. I'm not sure when I'll get to sketching what you requested from me, but I will get it done. ~

Cheepy-Cheepy 
News stuff from a new friend
you have a high rank, right? so, can you go to main page, then go to discussion, then put the stuff at the bottom onto the news template.
can someone plz help me with Pikmin 4: the wraith's revenge? I spend as much time as I can on here, thinking outside the box, trying to work according to the 15 pikmin types, but I often get distracted and lose focus. I know you already have so much work on your hands (probably), but I request this of you. also, I only need you to work on Monday and Tuesday, so I hope that helps. if you do wish to help, then post it on my talk page. at the end, sign with your username. I will choose one of you to help. remember to think outside the box! - Cp64.
Hey from Wraith
Hey Neocraftz1553, I liked your edits on your new game, seems like a solid ground for a project! Just wanted to leave this courtesy message because I haven't given up on this wiki, not by a long shot. I have plans of my own to continue my work. But I'm glad you're active! Thanks for being a part of this great site. Zoadra

Admin, Bureaucrat 17:33, 1 June 2019 (EDT)
Long time buddy
Hey neo, it has been way to long. How are yu doing? As im writing this i Have rediscovered my love for the Pikmin series. Would you help me revamp my game? — I am LoganPikmin and meet my friend

Spiky the Spike Pikmin.
Neo beginnings
Hey Neo, been a while. Finally made my own sprite for my sig. I was wondering, could you maybe make a model for the Spitball Dweevil? All you need to do is make it reflective, give it orange eyes, put little holes on the end of it's mandibles. Cool? thanks. I'm
Cyan piklord 64, and I like the Foundation Dweevil!
Hello
I saw you edited today! Glad to see you still around. I've returned to the wiki in a bigger way than my brief visit in 2019. I hope we can talk more in the future. Cheers, Zoadra

Admin, Bureaucrat 16:46, 9 July 2021 (UTC)