Pikmin 2: New Year
This article or section contains information pertinent to Pikmin 2: New Year, a Pikmin 2 ROM hack created by AmigaOwl.
To do: Do the following:
Add information that may be missing, and correct false information, on this page and any page yielding this game's information.

Perhaps make a subpage for this article, detailing the game's soundtrack. Use the YouTube playlist linked below for that, and don't neglect to mention the original song and its source.

Document any updates the game may have had, including version name and release date, and detail what changes were made in the update.

Some enemy names are subject to change. Remember to alter information and related files as necessary.

Additionally, some vegetation was updated, and given icons made by the creator themself.

In the infoboxes of the respective sections of the articles in the Piklopedia section, fill in the missing values and the locations they are found in.

Additionally, include differences in content between this and Pikmin 2, such as fire geysers being always active.

When there is enough information about an area or cave to merit creating its articles, do so and follow the guidelines for them.

Be sure to document what the ship was to say about them!

Capture a screenshot of every custom sublevel theme and treasure, and anything else that needs to be photographed.
Pikmin 2: New Year
The game's title screen.
Rating
E 10+
Genre
Real-time strategy
Platforms
Computer, Nintendo Gamecube
Media
Digital download
Publisher
AmigaOwl
Release dates
July 25th, 2021
Prequel
Pikmin 1
Creator
AmigaOwl
Collaborators
Sharker Da Shark
Jimble
A Friendly Amprat
Professionalnubtub
TurtleTrademark
EpochFlame
UnclePunch
PikHacker
Pikmin 2: New Year is a Pikmin 2 ROM hack that was created by AmigaOwl, with the help of a development team, and was released on July 25th, 2021 to commemorate the twenty-year anniversary of Pikmin 1's release. It is available to play on computers, and can also be played on the Nintendo GameCube. The game has much of the same content as Pikmin 2, but features new music, areas, caves, cave themes, Challenge Mode stages, new or reskinned enemies, and one reskinned plant. Additionally, every treasure from Pikmin 2 appears in Pikmin 2: New Year, although the Time Capsule and the Talisman of Life differ in appearance.
Below is the official trailer for Pikmin 2: New Year.
In addition to a gameplay trailer, Pikmin 2: New Year has a soundtrack available to listen to on YouTube. It can be found here in the form of a playlist.
Plot
Pikmin 2: New Year's overall plot is identical to that of Pikmin 2's. Captain Olimar, in his prized ship, the S.S. Dolphin, returns to Hocotate to find that the company he works for, Hocotate Freight, has been placed under a mountainous debt of

 × 10,100. The President sends Olimar and Louie back to PNF-404, in the Hocotate ship, to scavenge for treasures and any other valuables they come across. The two venture through various locations with their Pikmin, collecting what they can, and when the debt has been repaid, Louie wanders off and finds himself at the bottom of a treacherous cave's depths, on top of a Titan Dweevil, and the President takes Louie's place.
Endings
Likewise, the game also has both endings that Pikmin 2 has, both of which are possible to get in the same playthrough.
Content
Areas and caves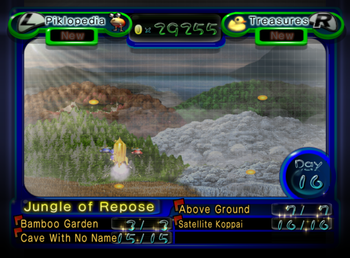 Four areas each representing a different season may be visited, and each one has a number of custom caves.
The new cave themes consist of the following:
Clouds
Commodore
Desert
Digital
Flower grotto
Sewer
Space
Volcano
Wood
2-Player Battle Mode stages
Same as in the original game.
Challenge Mode stages
Carrot Garden
Mamuta Town
Attic Maze
Elemental Crossroads
Antenna Beetle's Bakery
?
?
?
?
?
?
?
?
?
?
?
?
?
?
?
?
?
?
?
?
?
?
?
?
?
Pikmin
Every Pikmin species in Pikmin 2 returns in Pikmin 2: New Year. No new Pikmin species are encountered, although pikpik carrots are used in some Challenge Mode stages.
Piklopedia
The following is a complete list of every enemy and plant appearing in Pikmin 2: New Year, listed in the order defined by the Piklopedia.
Obstacles
One new obstacle is introduced.
Gallery
Version history
Version history
Version
Changes
Date
1.0
July 25th, 2021
---