This article relates to the official games. See Pikipedia's "Cloaking Burrow-nit" article for more official information.

| | |
| --- | --- |
| Cloaking Burrow-nit | |

Enemy
Scientific name
Trilobitins reclusiva
Family
Burrow-nit
The Cloaking Burrow-nit is an insect-like creature. It has a dark blue shell with large, red eye-like markings on it. When it hunts, it chooses a place where it rests face-down in the ground, patiently waiting for its prey to draw near. If it is approached, it emerges and attempts to follow and attack the Pikmin until they escape out of its pursuit range, when it then promptly returns to the spot where it was resting and re-burrows its head to wait for its next opportunity to chase prey. It has a sharp proboscis that can be thrust into prey, piercing the victim and causing damage, right before sucking it up and swallowing it.
Burrow-nits will deconstruct nearby stick bridges, similar to sheargrubs.
In fanon games
This is where users type their version of the Cloaking Burrow-nit.
In Pikmin 2: New Year
| | |
| --- | --- |
| Cloaking Burrow-nit | |

Scientific name
Unknown
Family
Burrow-nit
Poko value
 × 3
Attacks
Eats Pikmin
The Cloaking Burrow-nit appears in Pikmin 2: New Year. It retains its behaviors, but has drastic changes in appearance, having purple skin and eyes, a series of white dots on its forehead, a pink proboscis, dark red tips on its legs, and a light indigo shell, which bears two large, yellow eyespots each surrounded by an orange ring.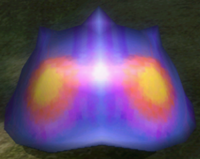 In Pikmin: Ultimate Doom
The Cloaking Burrow-nit appears in Pikmin: Ultimate Doom. It has slightly altered behaviors in that it has a lower detection range, almost an inch of its body. Additionally, in each area it appears in, the Cloaking Burrow-nit has a distinct appearance.
Rust Factory variant, appearing on edges of lava.
---
Pikmin: Wide World
Locations
Planets
Hocotate •
PNF-404 •
Mentioned (Koppai)
Areas
Balmy Highlands •
Arid Oasis •
Frigid Tundra •
Ancient Metalworks •
Mycelial Sepulcher •
Endless Sea
Dens
Balmy Highlands (Temperate Den, Desolate Dugout, Scornet Hive) •
Arid Oasis (Dune Den, Castaway Cove, Sunbaked Sauna) •
Frigid Tundra (Snowy Cove, Hot Hole, Stone Dugout) •
Ancient Metalworks (Hidden Scrapyard, Polluted Pond, Wasted Waterworks) •
Mycelial Sepulcher (Subterranean Spring, Gray Court, Phosbat Hideout) •
Endless Sea (Dark Den, Watery Grave, Scarpanid Nest)
Caves
Balmy Highlands (Grassy Grotto, Humid Hole, Watering Hole, Wayward Citadel, Forgotten Mine) •
Arid Oasis (Subterranean Sands, Gritty Getaway, Lost Kingdom, Concrete Complex, Wooden Fortress) •
Frigid Tundra (Lonely Quarry, Flaming Trench, Icy Crevasse, Frozen Fortress, Wracknid Nest) •
Ancient Metalworks (Chemical Reservoir, Corroded Complex, Clogged Pipeline, Robot Workshop, Dim Greenhouse) •
Mycelial Sepulcher (Dank Depths, Fungus Forest, Sunlit Pit, Divers' Delight, Black Abyss) •
Endless Sea (Muddy Murk, Overgrown Garden, Neglected Aqueduct, Cursed Chasm, Chance Pit)
Battle Mode
Close Quarters •
Forest Frenzy •
Tan Battleground •
Cold War •
Planked Peril •
Hard Fought •
Reinforced Fortress •
Frantic Factory •
Tiled Tossup
Challenge Mode
Pretty Prairie •
Forgotten Garden •
Serene Shore •
Frozen Fields •
Timber Maze •
Rocky Road •
Rebar Labyrinth •
Steel Stronghold •
Perplexing Paradise •
Dingy Dugout •
Foreboding Forest •
Sandstone Citadel •
Preserved Pit •
Wooded Expanse •
Impenetrable Prison •
Weathered Field •
Corroded Catwalk •
Mosaic Maze •
Breadbug Den •
Jellyfloat Pool •
Mandiblard Nest •
Cement City •
Arctic Abode •
Study Floor •
Balmy Highlands Trial •
Arid Oasis Trial •
Frigid Tundra Trial •
Ancient Metalworks Trial •
Mycelial Sepulcher Trial •
Endless Sea Trial •
Battle Bosses (The Titan Cottonade, The Frosted Arcticlops, The Plasm Wraith, The Titan Webber Dweevil, The Winged Snagret, The Grimacing Cremblub)
Characters
Main (Captain Olimar, Shacho, Marie, Louie, Dolphin Lander) •
Side (Alph, Brittany, Captain Charlie, Dorris, Granny Marma, Libra, Margot, Sagittarius, S.S. Drake, S.S. Dreamstride) •
Mentioned (Freight Voyager, SPERO, Bulbie)
Pikmin
Onion •
Pellet •
Yellow Pikmin •
Blue Pikmin •
Red Pikmin •
Purple Pikmin •
Green Pikmin •
Rock Pikmin •
White Pikmin •
Winged Pikmin •
Captmin (Captain Hunnigan) •
Alien Pikmin •
Mushroom Pikmin •
Wild Pikmin •
Parasitic Pikmin (Blue Bulbmin, Breadmin, Burrowing Snagmin, Cannon Beetlemin, Dweevilmin, Groinkmin, Hairy Bulbmin, Orange Bulbmin, Red Bulbmin, Spinermin, Spotty Bulbearmin, Wollymin)
Vegetation
(

list

)
Asphyxiating Moldclump •
Bloominous Stemple •
Bouncy Mushroom •
Bramble •
Browncap •
Burgeoning Spiderwort •
Capstalk •
Carnation Candypop •
Colossal Glowcap •
Common Glowcap •
Crimson Candypop •
Demantoid Candypop •
Flukeweed •
Golden Candypop •
Hydroe Bramble •
Ivory Candypop •
Kingcap •
Lapis Lazuli Candypop •
Lily pad •
Monarch Candypop •
Mouthy Shootplant •
Nectar Grass •
Orbular Pollenspout •
Pellet Posy •
Pellet Vine •
Shockcap •
Slate Candypop •
Sparklium Candypop •
Spiny Spiderwort •
Spotcap •
Springpetal •
Sunset Spiderwort •
Thorned Posy •
Vine •
Violet Candypop •
Weeping Posy •
Wickweed
Collectibles
Data file (Pikminology, Wildlife Survival, Explorers' Tales) •
Fruit (list) •
Nugget •
Sparklium (seed, stone) •
Treasure •
Upgrade (unlocks, Exploration Kit, ship part)
Nectars and sprays
Black nectar •
Nectar (Capstalk, egg, Nectar Grass, rubble) •
Burgeoning Spiderwort (ultra-bitter spray, ultra-spicy spray) •
Spiny Spiderwort (ultra-toxic spray) •
Sunset Spiderwort (ultra-hot spray, ultra-minty spray, ultra-sweet spray)
Hazards
Acid •
Adhesive •
Blunt force •
Bubble •
Electricity •
Fire •
Ice •
Lubricant •
Mud •
Panic •
Pit •
Poison •
Spore •
Sunset •
Water
Obstacles
Acid pool •
Bamboo gate •
Bomb rock (cryogenic bomb rock, dazzling bomb rock, incendiary bomb rock, mine, mine rock, smoke bomb rock) •
Boulder •
Bramble gate •
Brick gate •
Burrow-nit nest •
Cardboard box •
Climbing stick •
Clipboard •
Clog •
Cobblestone block •
Conveyor belt •
Conveyor switch •
Crystal •
Crystal gate •
Crystal nodule •
Crystal stalactite •
Electric bulb gate •
Electric wire gate •
Electrical wire •
Electrode •
Elevator block •
Elevator platform •
Escape geyser •
Fire bramble gate •
Fire geyser •
Flame •
Flukeweed dam •
Fragment bridge (bridge fragment) •
Frozen surface •
Gas pipe •
Glowstem •
Hay slope (hay stack) •
Ice chunk •
Iron ball •
Jackwig hive •
Liftable elevator •
Loose soil block •
Metal block •
Metal pipe •
Mitite bomb •
Mud puddle •
Nectar pool •
Oil slick •
Packed soil block •
Phosbat Pod •
Poison bramble gate •
Pully elevator •
Rain droplet •
Rectangular paper bag •
Reinforced gate •
Rock •
Rusted rod •
Sand pit •
Sky Dumple cluster •
Snowball •
Soil gate •
Soil mound •
Stick bridge •
Sweetgum pod •
Tin box •
Triangular paper bag •
Trowel •
Tunnel •
Water pool •
Water geyser •
Web •
Wooden stake
Gameplay
Achievements •
Caravan •
HocoPad •
Options •
Pikpik carrot •
Soul •
Squad desertion •
Temperature •
Weather •
Game modes (Story Mode, Battle Mode, Challenge Mode, Bottomless Abyss)
Other
Changes during development •
Gallery •
Cave units